Name: Brad Snyder
Campus: SUNY Cortland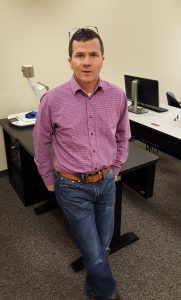 Years with SUNY: (26 Total) 7 years with Binghamton University in Telecommunications, 19 years with SUNY Cortland in Media Services/Campus Technology Services
Degree: BS in Mechanical Engineering, Rensselaer Polytechnic Institute and MS in Mechanical Engineering, Binghamton University
Main areas of responsibility: My area of Campus Technology Services supports and maintains the audio-visual technology in the academic, administrative and athletic spaces on the SUNY Cortland campus. We oversee new installations, scheduled equipment replacements, ongoing maintenance and coordination with Facilities and external contractors. Beyond instructional systems, our area is responsible for campus signage, audible emergency notification and cable television distribution.
Other Experience: In addition to being long time EdTOA member, I have had the pleasure to serve on its behalf in various capacities; Chair, STC Planning Committee, FACT2 Liason, FACT2 Secretary and FLEXspace Core Team. I greatly appreciate the camaraderie and knowledge base EdTOA affords.
Other Interests:Whitney Point Rotarian, restoration of a 1955 Chevy, hobby woodworking, maple syrup production, home and auto maintenance, enjoying the growth of two daughters and keeping the wife in a lifestyle in which she has grown accustomed.