Over twenty years ago, Oneonta built a fieldhouse to accommodate a variety of events including various sporting events, concerts, Commencements, Open Houses, and speeches. At the time, the AV department was not consulted about either sound or projection in the space, although almost every event held in there requires one or both. Instead, a sound system that could charitably be  described as inadequate was designed by the architect and installed by the contractor, while no projection system was installed at all. Added to that is the fact that the variety of events held in the Fieldhouse require a variety of seating arrangements, so any sound and projection systems would have to be versatile. As a result, for years sound for any large scale event required hiring a sound company at the cost of over $5000 per day and projection was simply avoided. In the years since, incremental improvements have been made culminating in the much more useful and versatile AV infrastructure in place today.
The first step taken, approximately 10 years ago, was to purchase two Sanyo 12,000 lumens projectors,  a dual projector mount from Chief,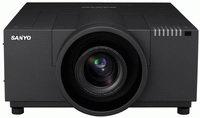 a DaLite 18ft high by 24ft wide electric wall screen  and two DaLite Fast-Fold 10.5ft high by 14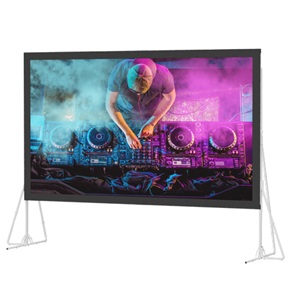 ft wide rear projection screens. This equipment enabled the required versatility when using projection for events with a range of seating arrangements. Floor or ceiling projection was possible, as was either front or rear projection.
Recently, this projection infrastructure has been upgraded further with the purchase of two Epson Pro L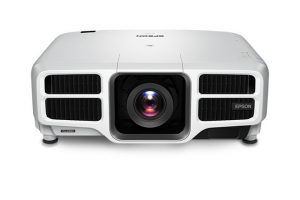 1750U 15,000 lumens laser projectors, along with two lenses for each – an ultra short throw for rear projection applications and a mid throw for front projection applications. In addition, our rear projection screens were upgraded to DaLite Fast Fold 180″ x 318″ models.
As for audio in the Fieldhouse, Oneonta recently completed the installation of a full house system with the same level of versatility as the projection infrastructure. Speakers include 2 Fulcrum Acoustic AH65s, 4 Fulcrum Acoustic AH96s, and 2 Fulcrum Acoustic CX1295s, all distributed around the ceiling, as well as 2 QSC KW-181 portable subwoofers and 4 QSC full range portable speakers.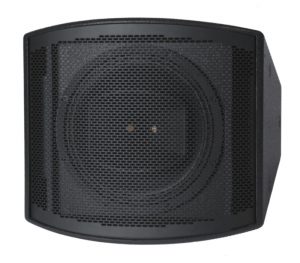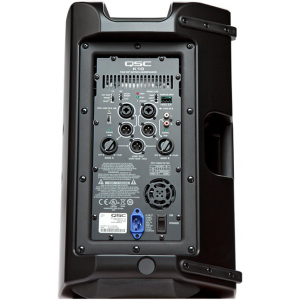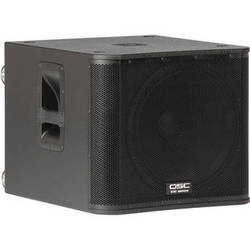 The system is powered by 2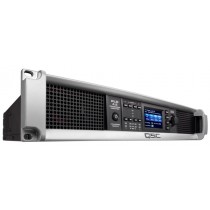 QSC CXD4.5 1200W, 1 QSC CXD4.3 900W and 1 QSC CXD4.2 500W amps, for a total of 2000 watts and is controlled by 2 QSC Q-Sys touchscreen controllers. The system is set up in three zones, one for each of the two bleacher sections and one for the floor seating. Any combination of zones can be active for any given event. For very simple single microphone events, any user can activate the system via the touchscreen controllers and adjust the volume for that one mic. For sporting events, like basketball or volleyball games, a portable rack has been configured with a mixer and multimedia player that can be plugged into any one of several wall or floor jacks that are spaced around the venue. Several people in the athletic department have been trained in this application. Finally, for full house events, like Commencements or addresses by guest speakers, a full function mobile rack is equipped with a QSC TouchMix 16 Pro Digital Mixer and is run by an audio technician.